THE BUFFALO BAYOU EAST Master Plan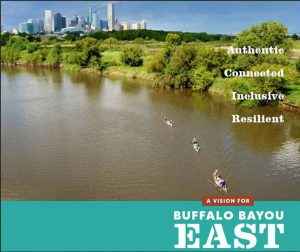 Buffalo Bayou Park East master plan, in Houston's East End, is quickly becoming a reality. It is helping to create a development boom along the Buffalo Bayou East Sector. This growth has helped to bring forth beautiful condos for sale in Eado. There is a master-plan in effect to redevelop the Buffalo Bayou Park East. Its design and development is being carried out by an all-star group of internationally recognized and industry leading consultants, who were recently revealed by the Buffalo Bayou Partnership. This renovation and beautification project has helped spark and propel developments like this area has never experienced before. The Buffalo Bayou Partnership is a non-profit organization with a goal to revitalize, beautify, and transform the Buffalo Bayou area.
Its commitment involves a plan and project that incorporates the following:
Authenticity –Creating unique park spaces that reflect the cultural and industrial legacy of the east sector.
Connectivity – Rethinking how parks and neighborhoods interact, activating and connecting the waterfront and surrounding neighborhoods.
Inclusivity – Establishing a pioneering precedent where green space can be a catalyst for inclusive revitalization.
the future of buffalo bayou east area
The entire Buffalo Bayou East Master Plan summary can be downloaded here.   This extensive plan in motion includes miles of waterfront properties, many parks, green spaces, boat landings, and pedestrian bridges.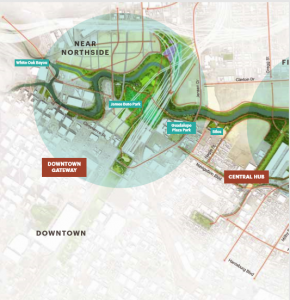 This area will consist of thriving communities, with lush and beautiful surrounding nature areas. This newly thriving Houston area known as Buffalo Bayou East Sector is quickly becoming a type of modern lifestyle oasis. The East River is one of many elite, well-planned, and ambitious projects undertaken by some of Houston's top real estate developers. Eado offers the best in Fine Cuisine, thriving arts, and lively entertainment. It is an area that is quickly stirring up attention. Both national and international diverse groups of people are now becoming aware of it. It is a place that unites both artistic diversity and modern living all into one.
Industrial Sector Landmarks
Buffalo Bayou East Sector's industrial sites are also serving as a backdrop for helping to create new pleasant public spaces. Its many mixed city landscapes are unlike anywhere else in Houston. Many believe that maintaining these industrial landmarks to be both thoughtful and one that will help to enrich the area. Through this initiative, cultural vibrations and unique lifestyles will help to create a uniqueness and character throughout the Eado. Chris Matthews, the lead designer of the Buffalo bayou project, has offered his positive opinion which states: "I applaud Buffalo Bayou Partnership for its commitment to seeing these industrial relics remain and incorporated into the bayou's landscape.".
The direction of the Buffalo Bayou East Sector expansion and investment is also to help the preservation of the culture in the East Houston EaDo area by providing pleasant green spaces such as parks, thoughtfully converted historic buildings, as well as exciting local destinations to the area. The complement of living spaces such as apartments, condos, and townhomes is also on the rise in Houston's East End, and one especially exquisite development is East End On the Bayou, which is nestled on the Southern bank of Buffalo Bayou, less than half a mile from the central business district.
premiere homes for sale in east downtown area
Dorado Builders is currently offering townhomes for sale at East End on the Bayou, which contain Mediterranean style construction with magnificent views of the downtown Houston skyline starting in the $390k's and up to $900k for highly custom single family homes. Dorado Builders is soon announcing its condos for sale in the East downtown Houston area starting in the $180k's price range. They offer the best condos for sale in Eado area through its distinguished and beautiful structurally styled real estate properties.
Image Sources: Buffalo Bayou Partnership East Sector Master Plan